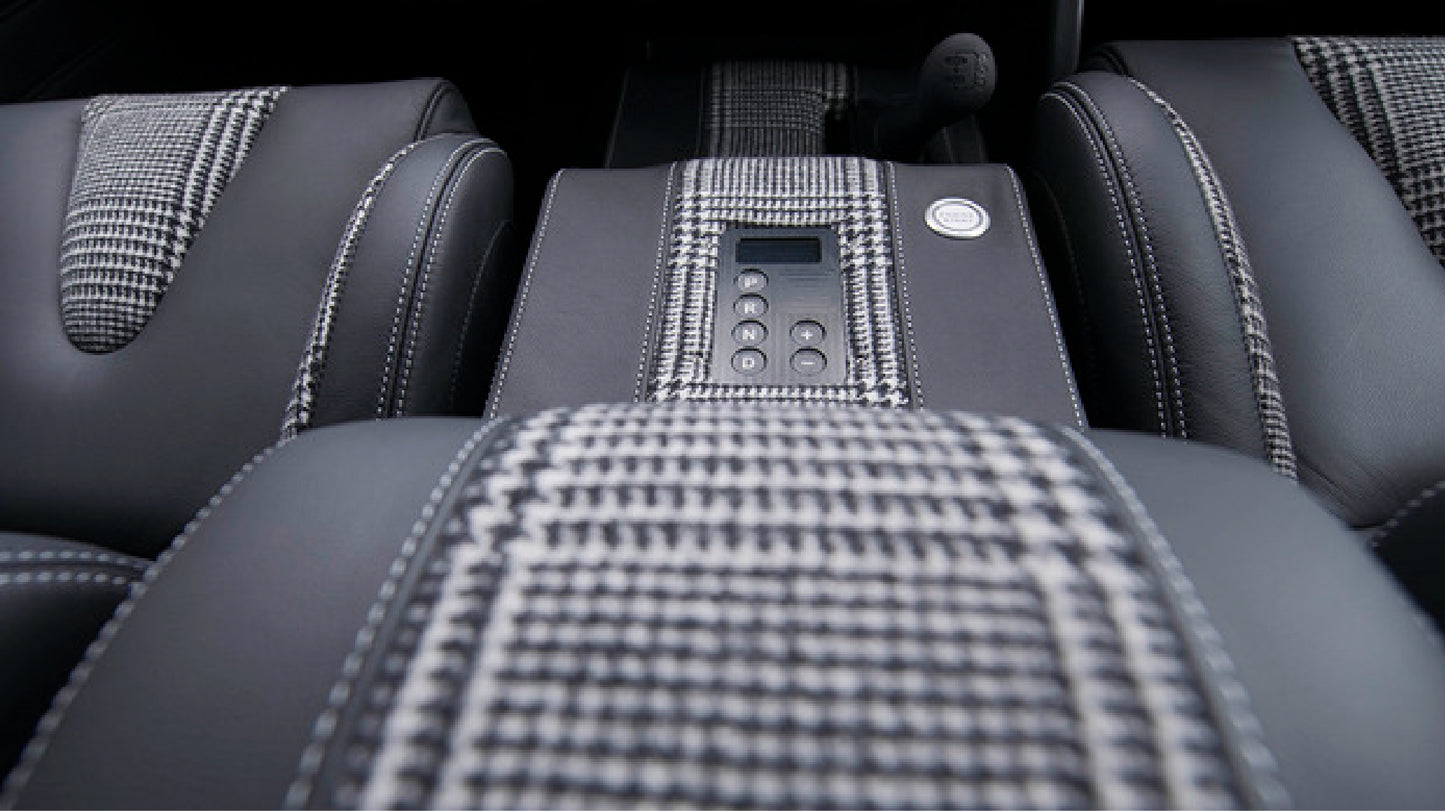 Clad in Volcanic Rock Satin, a 6.2-litre V8 engine boasts an estimated 430 bhp of explosive performance, thus ensuring it is quite indestructible and packs enough power to evade the most seasoned of criminals.
Rest assured - no baddie will be able to slow you down.
Getting behind the wheel makes for an immersive driving experience that allows petrol heads to live out their ultimate fantasy.
And what's more, you essentially become one of the main characters in a fictional film trailer, the designated getaways driver - think 007 - who always seems to outrun the bad guys.
Kahn Group CEO, Afzal Kahn believes once a customer has got to grips with the styling package and the mechanical upgrades, they will fall in love with the vehicle.
"I set out to create something fashionable, iconic and revolutionary which carries on the spirit of the Defender," said Mr. Kahn.
"It's instantly recognisable - if you saw one on the Moon, you would know it was a Defender. This particular model commands a great deal of respect."
The vehicle has an extra 400mm of bodywork inserted into the elongated chassis, just in front of the windscreen, hence the 105 designation, referring to the longer wheelbase.
A tougher, more rugged design with a square-sectioned wide arch body kit with integrated vents and bolt apertures is instantly recognisable alongside an X-Lander front grille, front bumper replacement with bumper lights, Diamond LED military headlights, fog lamps, tron ring lighting and a Flying Huntsman spare wheel cover.
The Flying Huntsman 105 Longnose is both capable on-road and unstoppable off-road. It wears the Chelsea Truck Company's exclusive Defend 1947 Heritage steel wheels finished in Volcanic Black.
The 6.2-litre engine drives a six-speed automatic gearbox that channels waste through an upgraded stainless steel exhaust system, whilst the engineering overhaul consists of a heavy-duty chassis, upgraded suspension and braking, hi-lo ratio drive system and locking differentials.
Inside, front and rear GTB seats, passenger dashboard top and grab handles and rear passenger knee protectors have been expertly trimmed in sumptuous leather with Hield fabric inserts.
Roof lining, double 3-spoke steering wheel in Satin Silver, Flying Huntsman time clock fascia insert, instrument binnacle in, custom centre console and cubby box, rear side panels and A-pillars in leather and vented foot pedals in machined aluminium complete the interior package.